Regular price
Sale price
30.00 €
Unit price
per
Sale
Sold out
¡Sólo quedan 4 en stock!
The painter and writer Paula Bonet portrays in this illustration what Ruzafa is for her, the neighborhood of Valencia where she began her artistic career. In the artist's Russafa there are dogs, antennas, towers, hydraulic floors and a woman who narrows her eyes to see everything more clearly.
Paula Bonet (Vila-real, 1980). Her illustrations are tender, sensual and with a great emotional charge. They bring out always the best or the worst of us; they evoke deep feelings that we are often not aware of but that we cannot help but identify as soon as we see them outlined in her work. With an increasingly refined technique, Bonet's strokes are the result of incessant work and a passion that runs through every gram of paper and every drop of ink that passes through her hands.
Paula Bonet made this illustration exclusively for Gnomo while she was a resident of the Ruzafa neighborhood. From then on her career took off and nowadays her work is one of the most prominent of the national art scene.
Size: A3 (42 x 29.7 cm). Printed sheet.
View full details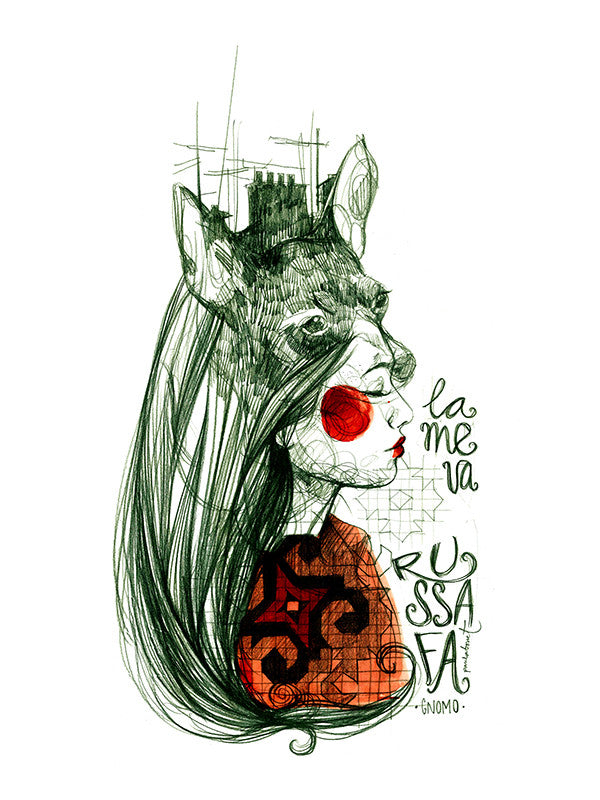 Paula Bonet es una crack
Muchas gracias por tu arte Paula
Nos alegramos mucho de que te gusten tanto las ilustraciones de Paula. ¡Que la disfrutes mucho!
Encantada con la lámina de Paula Bonet. Russafa también marca un hito en mi vida así que me ha encantado.
¡Muchas gracias, Arantxa! Qué guai entonces tener un cachito ilustrado de Russafa todos los días en casa. ¡Que lo disfrutes mucho!
PEDIDO PERFECTO
Hemos pedido una lámina y un jarrón de Frida, es todo precioso y nos ha llegado perfectamente, con ilusión de estrenarlo pronto en nuestra nueva casa. Gracias
¡Muchas gracias, M. Carmen! Qué ilusión nos hace que hayáis quedado felices con vuestro pedido, seguro que lo que elegisteis queda perfecto para decorar rincones. ¡Un abrazo!
Rápido y perfecto servicio
Pedimos una lámina y nos llegó esa misma mañana. Todo perfecto. La ilustración preciosa.Muchas gracias
Nos alegra mucho leerte Mati, esperamos que disfrutes mucho de tu ilustración y muchas gracias por contar con nosotras.
Muy bien
La verdad que llegó todo de forma correcta.
Me encanta el producto adquirido