Regular price
Sale price
$32.00
Unit price
per
Sale
Sold out
¡Sólo quedan 4 en stock!
Besides being a wonderful word, orange blossom is the flower of the orange tree. That flower that permeates the streets and fields of the Mediterranean every spring with its aroma and that fills our lands with color and promise. The Valencian firm Mitumi pays tribute to this and other emblems of the Mediterranean in its 'The Garden' (El Jardín) collection. Citrus, orange blossom, pomegranates and even swallows and berries to celebrate the land of flowers, light ... and design.
Mitumi creates limited editions of contemporary jewelry with a minimalist character, with an original design, locally produced and sustainable.
Gold hypoallergenic stainless steel hoop earrings with methacrylate piece with iridescent effect.
Measurements: 2.9 cm.
Designed and created by Mitumi, in Valencia, while the orange trees are in bloom.
View full details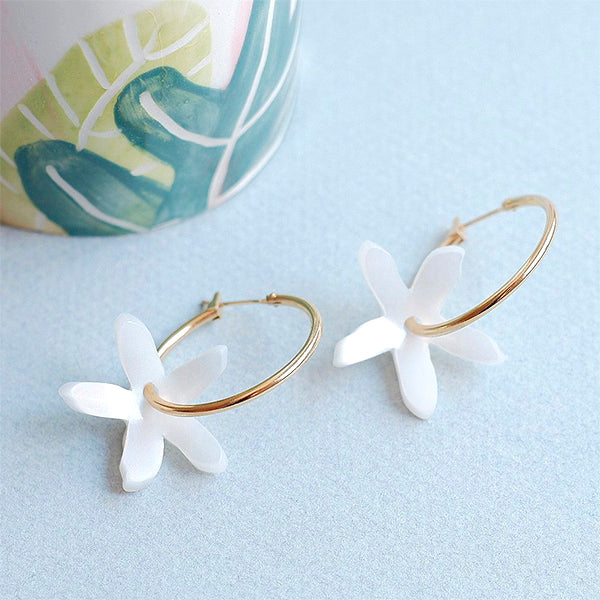 Son tan bonitos!
Hacía ya tiempo que los quería. En la web me parecían súper bonitos y cuando me llegaron confirmé que lo son! Quedan genial puestos y además no pesan, así que también son cómodos. Muy contenta
Nos alegramos un montón de que hayas quedado tan contenta, Anna. Es que los pendientes de Mitumi son súper bonitos. ¡Seguro que te quedan genial!
Los pendientes más bonitos del mundo
Muchas gracias por vuestra rapidez y efectividad en el envío, todo muy rápido. Y los pendientes son preciosos, soy muy fan de la flor del azahar, me encantan.
Un abrazo,
Susana
¡Muchas gracias, Susana! ¡Qué los disfrutes muchos!
Pendientes
Todo genial, el producto ideal y el envío muy rápido.
Muchas gracias, Mari. Es que los pendientes de Mitumi son una pasada. Que los disfrutes mucho :)
M'encisaren
Me van enamorar tant que els compri quan els vaig vore. Eren preciosos, senzills i elegants. El primer dia que els vaig lluir tota contenta no havia tancat bé i vaig perdre un :(((((((( no el trobava i me va sentar super mal, així que molt de compte amb això!
Ay, jolín. ¿Sigues luciendo el otro, al menos?
Excelente servicio
Me gustan muchísimo los pendientes que compré, buen servicio de envío como si hubiera comprado en un a tienda física, muy buena atención al cliente 👍
Qué ilusión que nos digas esto, Charo. Muchas gracias y que los disfrutes mucho.